E&I engineering: how we work
eReM designs a panel according to your specifications and takes the standards of your industry into account. Our E&I engineers work with the latest 3D engineering tools, like EPLAN and Pro Panel. A virtual prototype can be build with this software. This way, the engineers can easily see if a design can be realized. Also, the software helps to determine the right climate control.
Next to designing panels, our engineers can draw loopdiagrams for your system. We can also do the work preparation and project management. We watch over the schedule and take care of the process, from purchasing materials to testing the panels. Would you like to replace a system? We are able to advise you about the revision or migration of your system.
Your advantage
eReM has a team of high qualified E&I engineers. As our customer, you will have the following advantage:
Our engineers are well aware of the latest techniques and make use of advanced engineering tools.
Our engineers are in close contact with suppliers and producers.
You are guaranteed to have the best advise about your panel.
There is a direct link with the production process. There is one contact point for the customer and changes can easily be made.
We work according to the following guidelines:
2006/42 / EC European Machinery Guideline
2014/30 / EU European EMC Guideline
2014/35 / EU Low Voltage Guideline
2014/34 / EU European ATEX Guideline
These are the standards that we apply during the design:
NEN-EN-IEC 60204-1 Electrical Machine Safety
NEN-EN-IEC 61439 Low voltage switchgear and distribution equipment
NEN-EN-IEC 60079 Explosive atmospheres (ATEX)
NEN1010 Electrical installations for low voltage
Next to E&I engineering, we are also specialized in panel building, software engineering and installation. The different departments of eReM join their forces to make a success out of your project.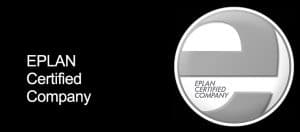 We have been an EPLAN Certified Company since 2018. You can read more about this certification here.