Customer story: Volker Energy Solutions speaks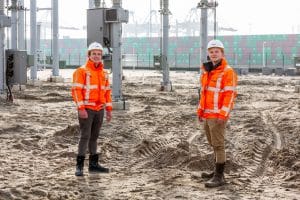 What is the success of a good collaboration? We asked Sipke de Man and Rolf Dorré of Volker Energy Solutions. Commissioned by Volker, eReM was allowed to build and install 115 panels and 29 low-voltage distributors on Maasvlakte 2 for the 'Hollandse Kust Zuid land station' project.
The project summary
In September 2019, Volker Energy Solutions started the construction of the Hollandse Kust Zuid land station commissioned by TenneT. The land station connects the off coast wind farm to the land. In combination with the already completed 'Borssele' land station and the future 'Hollandse Kust Noord' land station, 3,500 MW of wind power will be connected: half of the Dutch households can be supplied with electricity.
Communication and proactive thinking
For the scope of supplying the secondary panels and the telecom panels, but also the tertiary panels and the installation, eReM was approached. "There are few parties in the Netherlands that can carry out both the panel construction and the installation on site with the experience that the client expects. It is this combination; realizing the scope from A to Z, that makes the collaboration successful ", according to Sipke and Rolf. Although the complex tertiary design presented some challenges. Rolf: "eReM coped very well with this by asking a lot of questions, in order to ultimately be able to meet the demand". Communication seems to play a large part in the successful collaboration anyway. "In the beginning, many changes were made to the packages, eReM has been very active in this.", Says Rolf. Sipke adds that changes were handled very proactively. Sipke: "The moment eReM did not agree with a change, had a different proposal or saw an error in the packages, they quickly came our way to share it and make their solution concrete. Thinking along ensures a very good relationship and cooperation. "
Reaching the finish line as a team
Looking back on the project, Sipke and Rolf are positive about the collaboration. "It remains people business, there has been very intensive contact between us and eReM's implementers and project manager. That contact was just very good ", says Rolf. He adds that the strength of eReM also lay in its flexibility: "if the planning turned out different along the way, that was never an issue, eReM would make some changes in their planning so that together we could finish the project on time and budget. " No project without a learning curve, also here. Rolf: "What was certainly present, but could have been even better, is the coordination of 'what do I need and when do I need it?' And 'where do we stand according to plan'. If a panel builder and installation company can report their progress properly, it really has added value for the client. " What really stood out for the gentlemen of Volker in the collaboration was the installation on site by a committed team, the flexible attitude, the thinking along and the good communication on issues. Rolf: "That combination has brought the success of which we are all now reaping the benefits."