Engineering Manager John Meijer shares his knowledge
Let's introduce…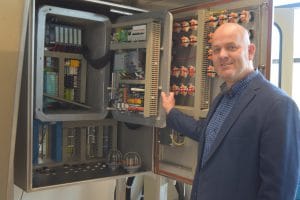 John Meijer has worked in the field of electrical engineering and measurement and control technology for 30 years. In the past, he has mainly occupied himself with designing, commissioning and inspecting electrical installations according to the NEN1010, NEN60204-1, NEN61439, NEN3140 and ATEX norms. For over 10 years he has been a member of the standards committee of the NEN NEC 44: electrical equipment of machines. At the committee, he has collaborated on the revision of the NEN-EN-60204-1: the norm about electrical safety of distribution panels.
John's position at eReM
Since the beginning of 2019, John has worked as the manager of the E&I engineering department. He is always well aware of the changes concerning rules and regulations. On a monthly basis, John gives training to the engineering, panel building and E&I installation departments in order to enhance eReM's knowledge. Various topics are discussed, like the selection of the right circuit breakers, the calculation of kA values, the grounding of switchboards, wire diameters, power supply of cabinet lighting and sockets, ATEX guidelines etc.
Knowledge blog
John will share his knowledge about electrical machine safety in a blog the coming time. Every month, a different topic will be discussed. This way, our customers will be well aware of the latest developments. The first blog will appear in October. Keep an eye on our website!