We are proud to inform that eReM has received the ISO 9001:2015 certificate.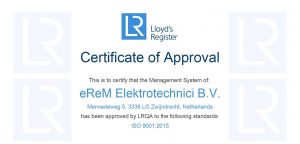 Iso 9001
The new ISO 9001 will make us reflect our own organization. This way, all opportunities and company risks are evaluated. Measures will be taken in order to prevent the risks.
This will be captured in process descriptions and in an overall quality management system. The purpose of this system is to support the employees of an organization.
Focus on the real targets
The ISO 9001:2015 is a huge improvement for us. However, it is not a target on its own. Eventually, ISO is the base for the implementation of a management system. That is why we focus on the real target: secure our quality in order to enhance the satisfaction of all customers and stakeholders. We implement improvements in cooperation with our employees and secure them in our management system. The result is a quality system that meets the requirements of ISO 9001:2015, that is not leading, but supportive.