eReM starts with new VX25 system
Replacement of TS8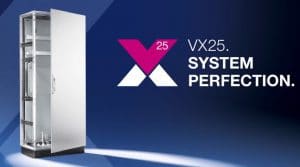 After a development period of five years, Rittal has launched the VX25; the new large enclosure system that will gradually replace the TS8. Most of the product features of the TS8 will be preserved. However, the VX25 contains a lot more possibilities. The system was recently released on the Dutch market. High customer requirements have resulted in the creation of the new VX25 cabinet.
Demobus Rittal
On Tuesday June 19th, a Rittal Demobus visited eReM. This demobus was all about the new VX25 system. Our employees got the chance to take a look and to ask the Rittal team some questions. This way, they could optimally prepare to start building with this new cabinet, that will be used in our company soon.

Ready to start with projects
In the meantime, eReM is fully aware of the advantages of the new VX25. We are enthusiastic about the new system and we are well prepared to advise our customers. From now on, it is possible to contact us for projects with the VX25 system. More information? Here you can read the article of Rittal.
We are looking forward to future orders! You can fill out the form below to contact us.