Johan de Bruin leaves the company
From January 1st 2018, Johan de Bruin will no longer be part of eReM's management board. After serving eReM for 33 years and being part of the management for 13 years, this period comes to an end. However, in the coming months, he will still be working as a project manager. The management will be continued by the existing members: Sander van Gool (sales director), Ben Pijl (operational director) and Wouter Speksnijder (financial director).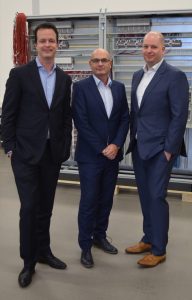 A look at the future
The management looks forward to the upcoming year. In 2018, the organization will be expanded and a growth is expected in the energy and oil & gas industry. By investing in innovative solutions in automation and process optimization, great projects can be realized in panel building, E&I installations and process automation.
eReM is your partner in industrial automation. We are capable of performing the E&I engineering, panel building, software engineering and installation for our customers. Naturally, we can also commission installations and perform service & maintenance activities. In 2018, we will put more focus on complete projects in process automation. This way, the different departments of eReM can work together on great results.