Fire & gas systems
eReM has a lot of experience with migration projects, among which fire & gas systems. We think along with our customers and make sure that the downtime remains as short as possible. We do this without making any concessions regarding safety. We are well aware of the current regulations and know the importance of the systems we work on.
Process installations
eReM is capable of doing the E&I installation work for entire skids. Whether it concerns a waste water treatment plant or a metering skid. We install cable trays, the wiring, the control panels, junction boxes, instrumentation, lighting and earthing according to the indicated specifications. We are used to making proper plannings and working togehther with other departments.
Strict rules apply in the offshore. Some installations should be build for a design lifetime up to 20 or 25 years. In this case, eReM can select the right suppliers in order to meet the customer's restrictions.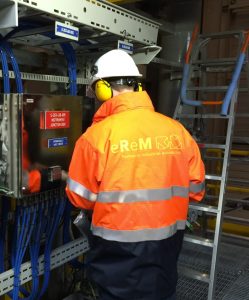 Ex installations
eReM is aware of the strict guidelines of ATEX (Europe) / IECEx (International) / EEHA (Australia). In explosion hazardous environments it is important to work with a different mindset. Our mechanics are well aware of the dangers and they have knowledge of the different protection methods. They have been educated about the guidelines. They check if all materials and components that will be installed, are suitable for the zone and application. They have been trained about the most frequently occuring types of glands.
We work on Ex installations according to the installation guideline 60079-14. Often, customers deliver an explosion protection document with a zoning map of the installation. We can easily understand these documents and use them to select the correct materials. We install the components and take responsibility for the result.
Would you like to know more about panel building in explosion hazardous environments? Read our blog about this subject.